Sunday, June 7, 2015
Drive north to tour Caesarea, once the Roman capital of the region. See the excavations of the crusaders' city, the aqueduct and amphitheater which has been restored as a concert venue. Proceed to Haifa for a panoramic view from Mount Carmel and visit "AF AL PI CHEN", the naval museum of the illegal immigration to Israel at the time of the British mandate. Drive to Acre; walk along the old harbor and local market; continue to the northernmost point of Israel at Rosh Hanikra. Descend by cable car into the limestone grottoes.
Sunday morning we bid a fond farewell to the Dan Panorama Tel Aviv and met up with our tour. To our surprise, it was the same guide from Friday. But now we had a full sized bus, more people, and a separate driver.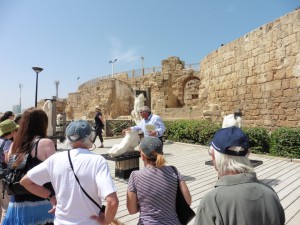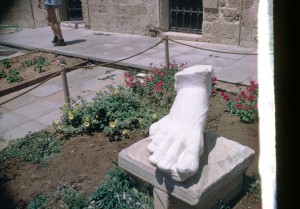 Our first stop was the ancient city of Caeserea. Under the leadership of King Herod, whom our guide spent the entire work referring to as "that meshuganah paranoid", Caeserea was transformed from a small village into an important port city. Caeserea is also home to the country's only 18 hole golf course.
The Park is where much of the ruins exist, and have been excavated.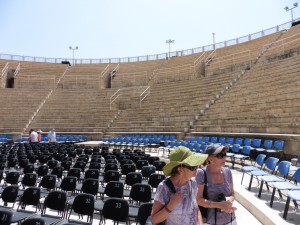 At the Caesarea Park, we ran into a group on Birthright Israel. Birthright has always been a sensitive topic for me. I went on March of the Living in 1999, and was told that made me ineliglble for Birthright, which is a free trip to Israel for college-age kids. Meanwhile, people who had been to Israel dozens of times seemed to be going for free. And I felt there was more for me to see.
The rules, from what I understand, were changed, and one person who went on March of the Living later told me he went on Birthright. But, no use crying over spilt milk. I was never in Tel Aviv during that trip. Look for future editions of Israel: Then and Now…1972, 1974, 1999, and 2015. We'll see how things have changed.
The Roman Theater at Caeserea has been rebuilt, and now serves as a venue for music.
Caeserea also began my continual search for water fountains during the course of the trip. Apparently, for a desert country…the idea of public water is not as common as you'd think. The park did have water, which is good.
After we left the park, we headed toward Haifa, stopping for lunch at a small mall, where I had a tuna sandwich. We picked Aroma, which is interesting in that it is an Israeli coffee chain that is currently available in cities around the world. The first U.S. Branch opened in 2006. There are 10 in New York, for example.
Haifa is the third largest city in Israel, and a majore seaport. Built on the slopes of Mount Carmel, unlike Tel Aviv, it seemed like it would be a place I would want to see more of. However, it is built into the side of a mountain. I learned when I went to school in Ithaca that a large amount of steep hills is an issue for me.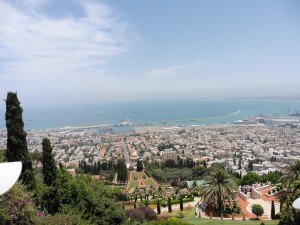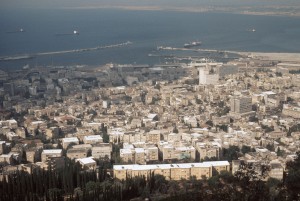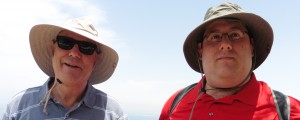 And once again, we have Haifa as it appeared then and now. We stopped for this picture of us in our official Costco Sunhats, apparently very popular on our tour group.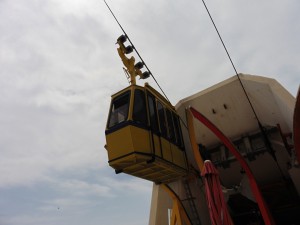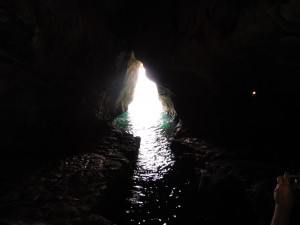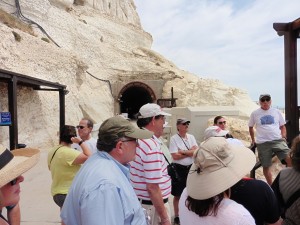 We did not, despite the itinerary, visit the Naval Museum. We took a walk through the city of Akko before headed toward one of my favorite sites, Rosh Hanikra. I realized I did not take any pictures in Akko.
Rosh Hanikra is a series of grottos very near the Lebanese border, accessible by what may be the steepest cable car in the world. Nearby is the sealed railway tunnel to Lebanon. The tunnel was built in 1943 to connect Cairo and Istanbul, created a single route that could extend all the way through to Europe. However, the tunnel was sealed, and reportedly was never used for civilian service.
The day ended at Kibbutz Lavi. More on that in Part 4, where we visit Tsfat.